For more information and enquiries, pls contact us at sales@jethobby.com.sg

33 Ubi Ave 3,
#01-10/11 Vertex,
Singapore 408868
Tel: 65 - 6223 8933
10:30am - 8:00pm (Mon-Fri)
10:30am - 6:00pm (Sat)
Public Holidays & Sunday closed






We are Singapore based company. All prices listed are in Singapore Dollar (SGD).
Prices are subject to change without prior notice.

Jet Hobby RC Model Pte Ltd

Promote Your Page Too

Catalogue

HobbyWing (Aircraft & Heli)

Hobby Wing FunFly-6A Brushless ESC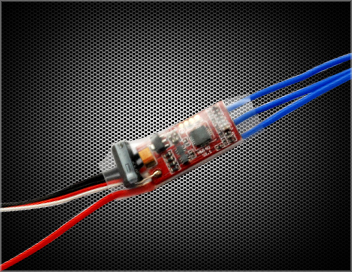 Hobby Wing FunFly-6A Brushless ESC
Military standard capacitor with extreme low resistance is used at voltage input section, this will increase the ability of prevention of unwanted RF Noise/ Interference during flying.
Low resistance PCB is used at power output section to get best current endurance capability.
Compatible with Hobbywing's Program Card.


Features:
Safety Arming Feature: Regardless the throttle stick position, the motor will not spin after battery connected.
Throttle Calibration: Throttle range can be configured to provide best throttle linearity, fully compatible with all market available transmitters.
Programmable Items:
Brake Setting: brake enabled / brake disabled.
Battery Type: Li-xx(Li-ion or LiPo) / Ni-xx(NiMh or NiCd).
Low Voltage Protection Mode(Cutoff Mode): Gradually reduce the output power / Cutoff the output power.
Low Voltage Cutoff Protection Threshold (Cutoff Threshold): low / medium / high.
Start Mode: normal / soft / very soft.
Timing: low / medium / high.
Reset: reset all the programmable items to its default setting.
Full Protection Features: Low voltage cutoff protection / over-heat protection / throttle signal lost protection.

Specifications:
Output: Continuous 6A, Burst 8A up to 10 Secs.
Input Voltage: 2 cells lithium battery or 5-6 cells NiCd/NIMh battery.
BEC: 0.8A / 5V (Linear mode).
Max Speed: 210,000rpm for 2 Poles BLM, 70,000rpm for 6 poles BLM, 35,000rpm for 12 poles BLM. (BLM: BrushLess Motor)
Size: 24mm (L) * 12mm (W) * 6mm (H).
Weight: 6g.

Misc Information:
Product Code: HWPT6A
Manufacturer: HOBBYWING
Retail Price: S$20.00
Category: HobbyWing (Aircraft & Heli)
---
Back to: HobbyWing (Aircraft & Heli)