Catalogue

ESC (Boat)

SeaKing-35A Brushless ESC for Boat(Version2.0)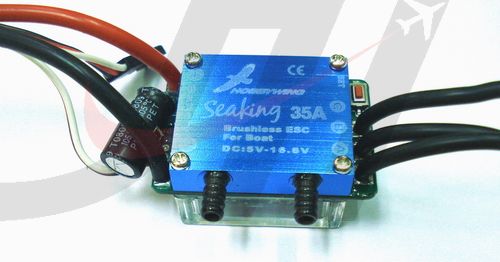 SeaKing-35A Brushless ESC for Boat(Version2.0)
"SeaKing" series ESC is specially designed for boat, so it has the water-cooling system and the whole ESC is waterproof.


Features:
Use top quality electronic components to enhance the current endurance ability of the ESC.
Special designed for RC boat, with excellent start-up, acceleration and linearity features.
With water cooling system.
The whole ESC is waterproof.
With 2 running modes ("Forward Only" mode and "Forward/Backward" mode).
With brake function.
With 8 steps of timing adjustment to get the best compatibility with various of motors.
Multiple protection features: Low voltage cut-off protection for lithium or nickel battery / Over-heat protection / Throttle signal loss protection.

Specifications:
Output: Continuous current 35A, burst current 190A.
Input: 4-12 cells NiMH/NiCd or 2-4 cells LiPo. Note1
BEC Output: 6V/1.5A.
Resistance: 0.0015 Ohm.
Motor Supported: Sensorless Brushless Motor
External diameter of the water cooling pipe: 4.0mm
7 Size: 31.5mm(L) * 27.5mm(W) * 24mm(H).
Weight: 30g(Without wires)
For 4-9 cells NiMH/NiCd or 2-3 cells Lipo: You not need change anything of the ESC.
For 10-12 cell NiMH/NiCd or 4 cell Lipo: You must disable the output of built-in BEC, and use a 3A UBEC to supply the receiver.

Misc Information:
---
Back to: ESC (Boat)