Catalogue


HobbyWing Platinum-70A-HV-PRO Brushless ESC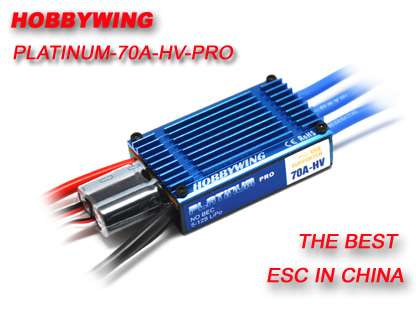 HobbyWing Platinum-70A-HV-PRO Brushless ESC
Platinum-70A-HV-PRO ESC belongs to Hobbywing's "Platinum" series products line, it is the most significant top-class product for aircraft and helicopter.
Very powerful for 600 class helicopter (Working with 8 or 10 cells Lipo battery)
Very powerful for huge scale aircraft such as F3A


Features:
High performance microprocessor brings out the best compatibility with all kinds of motors and the highest driving efficiency.
Wide-open heat-sink design to get the best heat dissipation effect.
With 3 types of start mode: Normal / Soft / Very-Soft, compatible with aircraft and helicopter.
Smooth, linear, quick and precise throttle response.
Multiple protection features: Low-voltage cut-off protection / Over-heat protection / Throttle signal loss protection.
The output voltage of the built-in BEC is switchable by user programming (5.25V or 6.0V).
Perfect governor mode for helicopter.
The firmware of the ESC can be updated through the USB adapter on the Professional LCD Program Box.
User programmable. Several kinds of program methods are supported: transmitter, digital LED program card, advanced professional LCD program box, PC software. Very easy to program the ESC at home or at the flying field.

Specifications:
Model:Platinum-70A-HV
Output: Continuous 70A, Burst 105A up to 10 Secs.
Input Voltage: 5-12 cells lithium battery or 15-36 cells NIMH battery.
BEC: None.
Control Signal Transmission: Optically coupled system.
Max Speed: 210,000rpm for 2 Poles BLM, 70,000rpm for 6 poles BLM, 35,000rpm for 12 poles BLM.
(BLM: BrushLess Motor)
Size: 70mm (L) * 34mm (W) * 16mm (H).
Weight: 82g.

Misc Information:
---
Back to: