Catalogue

Solar Charger

USB + AA Chargers black solar charger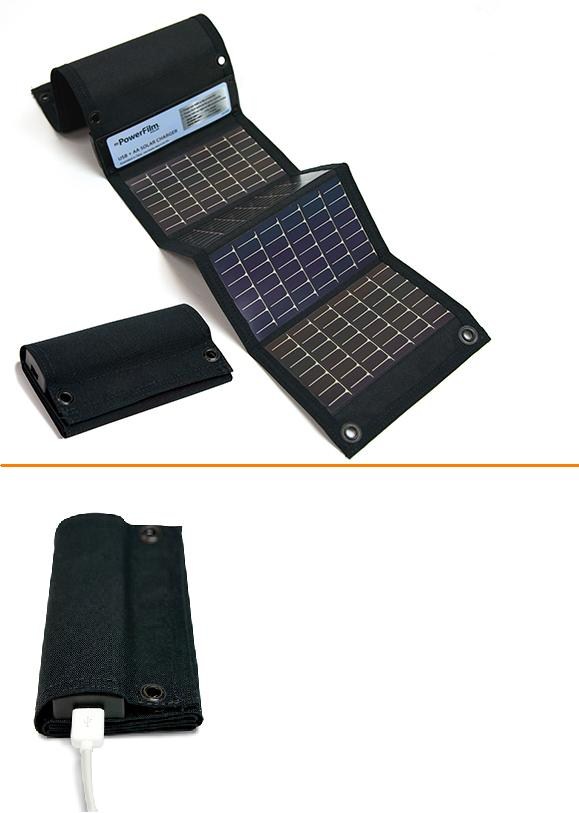 USB + AA Chargers black solar charger
Charge AA batteries as well as cell phones, iPods, PDA's and more with the PowerFilm Foldable AA/USB Solar Charger.
The Foldable AA Solar Charger is ultra compact and lightweight while remaining extremely durable, making it ideal for everyday use. It folds up into the size of an average wallet, making it easy to carry just about anywhere.
Charging 2 AA batteries in 4 hours, this unit provides highly-effective battery charging. PowerFilm's exclusive charging circuitry maximizes the charge into the batteries, and charging lights indicate charge status and completion.
Lightweight, durable, and flexible solar panels are integrated directly onto the fabric, keeping the weight of the charger to less than four spare batteries. Built-in grommets allow for secure fastening to a variety of locations.
A built-in USB outlet allows users to connect iPods, cell phones, PDA's, and more. This unit will allow users to simultaneously charge their AA batteries and portable electronic devices.


Features:
Ultra compact, ultra lightweight and yet very durable, the PowerFlim® USB + AA Solar Charger is ideal for everyday use. The USB + AA Solar Charger charges most small USB devices.
Proprietary charging circuitry maximizes charge into the batteries. It provides full charge in four hours of full sun, and with a charging light on the side of the enclosure, indicates charging status.
Six grommets are built into the charger to allow for secure fastening to a pack or to the ground. Direct integration of the PowerFilm flexible solar panels onto the fabric allows for easy storage into a pocket.

Specifications:
Solar operating voltage: 3.6V
Solar Operating Current (Amps): 0.4
Weight w/o batteries: 4.9 ounces
Folded Dimensions: 3.25 x 5.5 x 1.38 inches, 83 x 140 x 35 mm
Unfolded Dimensions: 24 x 5.5 inches, 620 x 140 mm
USB Charging Voltage: 5.0 Volts
USB Charging Current (Amps): Up to 1.0
AA Batteries Included.

Misc Information:
Product Code: USB+AA
Offer Price: S$59.00
Retail Price: S$135.00
Category: Solar Charger
---
Back to: Solar Charger