For more information and enquiries, pls contact us at sales@jethobby.com.sg

33 Ubi Ave 3,
#01-10/11 Vertex,
Singapore 408868
Tel: 65 - 6223 8933
10:30am - 8:00pm (Mon-Fri)
10:30am - 6:00pm (Sat)
Public Holidays & Sunday closed






We are Singapore based company. All prices listed are in Singapore Dollar (SGD).
Prices are subject to change without prior notice.

Jet Hobby RC Model Pte Ltd

Promote Your Page Too

Catalogue

ESC (Car)

XERUN-150A-SD Brushless ESC for 1/8 Car (Competition Race)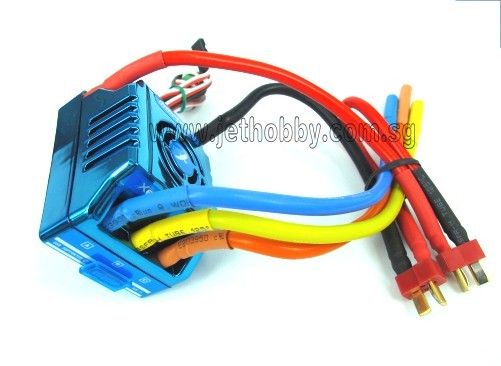 XERUN-150A-SD Brushless ESC for 1/8 Car (Competition Race)

Features:
1.1 Compatible with all sensorless brushless motors and most of sensored brushless motors such as Novak, LRP and Feigao, etc.
1.2 Excellent start-up, acceleration and linearity features.
1.3 3 running modes (Forward only with brake, Forward/Reverse with brake, Forward/Reverse immediately)
1.4 4 steps of maximum reverse force adjustment.
1.5 Proportional ABS brake function with 4 steps of maximum brake force adjustment, 8 steps of drag-brake force adjustment and 4 steps of initial brake force adjustment.
1.6 9 start modes (Also called "Punch") from "very soft (Level 1)" to "very aggressive (Level 9)".
1.7 Multiple protection features: Low voltage cut-off protection / Over-heat protection / Throttle signal loss protection / Motor blocked protection.
1.8 8 steps of timing adjustment by software.
1.9 Built-in switch mode BEC has a powerful output to supply all the electronic equipments.
1.10 Easily program with only one button and compatible with pocket-sized Program Card.
1.11 Firmware can be updated through an USB adapter (Optional equipment).
1.12 Splash proof and dustproof.
1.13 Stable and reliable.

Specifications:
1.1 Output: Continuous current 150A, burst current 950A.
1.2 Input: 6-18 cells NiMH/NiCd or 2-6 cells LiPo.
1.3 BEC Output: 5.75V/3A (Switch mode built-in BEC).
1.4 Resistance: 0.0002 Ohm.
1.5 Motor Supported: Sensorless and sensored brushless motors
1.6 Suitable Brushless Motor:
When working with 4 cells Lipo: >= 4.5T (KV<=3000)
When working with 6 cells Lipo: >= 6.0T (KV<=2400)
The above T number is the value of a 4274 sized motor (Diameter=42mm, Length=74mm)
1.7 Suitable Car: 1/8 Buggy / Truggy / Monster.
1.8 Size: 58mm(L) * 46.5mm(W) * 35mm(H).
1.9 Weight: 105g(Without wires)

Misc Information:
---
Back to: ESC (Car)