Catalogue

ESC (Boat)

Seaking-25A Brushless ESC for Boat(Version2.0)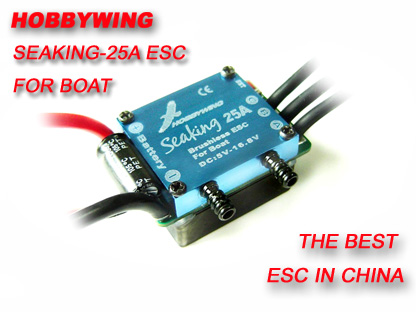 Seaking-25A Brushless ESC for Boat(Version2.0)
"SeaKing" series ESC is specially designed for boat, so it has the water-cooling system and the whole ESC is waterproof.
Output: Continuous current 25A, burst current 50A.
Input: 5-9 cells NiMH or 2-3 cells LiPo.
BEC Output: 6V@1.5A Linear mode built-in BEC.
Suitable Motor: Sensorless Brushless Motor
External diameter of the water cooling pipe: 4.0mm
Size: 48mm(L) * 35mm(W) * 20mm(H).
Weight: 48g


Features:
Use top quality electronic components to enhance the current endurance ability of the ESC.
Special designed for RC boat, with excellent start-up, acceleration and linearity features.
With water cooling system.
The whole ESC is waterproof.
2 running modes ("Forward Only" mode and "Forward/Backward" mode).
With 8 steps of timing adjustment to get the best compatibility with various of motors.
Multiple protection features: Low voltage cut-off protection for lithium or nickel battery / Over-heat protection / Throttle signal loss protection.
User programmable and compatible with the pocket-sized Digital LED Program Card (Optional equipment) to set the ESC easily.

Specifications:
Output: Continuous current 25A, burst current 50A.
Input: 5-9 cells NiMH or 2-3 cells LiPo.
BEC Output: 6V@1.5A Linear mode built-in BEC.
Suitable Motor: Sensorless Brushless Motor
External diameter of the water cooling pipe: 4.0mm
Size: 48mm(L) * 35mm(W) * 20mm(H).
Weight: 48g

Misc Information:
Product Code: SK25A2
Retail Price: S$49.00
Category: ESC (Boat)
---
Back to: ESC (Boat)