For more information and enquiries, pls contact us at sales@jethobby.com.sg

33 Ubi Ave 3,
#01-10/11 Vertex,
Singapore 408868
Tel: 65 - 6223 8933
10:30am - 8:00pm (Mon-Fri)
10:30am - 6:00pm (Sat)
Public Holidays & Sunday closed






We are Singapore based company. All prices listed are in Singapore Dollar (SGD).
Prices are subject to change without prior notice.

Jet Hobby RC Model Pte Ltd

Promote Your Page Too

Catalogue

ESC (Car)

JUSTOCK Brushless ESC Blue for 1/10 Car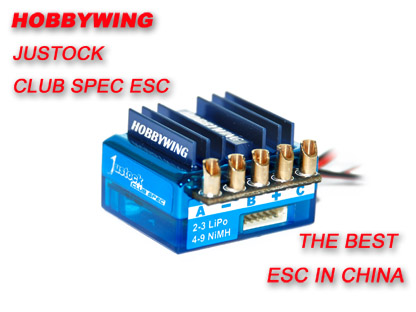 JUSTOCK Brushless ESC Blue for 1/10 Car
Suitable Brushless Motor:
With 2 cells Lipo or 4-6 cells NiMH, 1/10 on-road: >=8.5T, 1/10 off-road: >=11.5T
With 3 cells Lipo or 7-9 cells NiMH, 1/10 on-road: >=13.5T, 1/10 off-road: >=17.5T
1.7 Suitable Car:
1/10, 1/12 on-road or off-road cars / trucks.
1/10, 1/8 rock crawler.


Features:
Smart and small.
Sensored brushless ESC with the best control feelings, drives sensored and sensorless brushless motors.
Timing is permanently set to zero degree (unchangeable). With the identical racing motor, each driver has the same power system to have a real fair racing.
Firmware updatable, but always with zero timing. Compliant with ROAR SPORTMAN rules.
Very suitable for Rock Crawler when combined with a 21.5T sensored motor.
User programmable.
Easily programmed with the "SET" button on the ESC, and also compatible with the Digital LED Program Card and the Advanced Professional LCD Program Box.
Multiple protection features: Low voltage cut-off protection / Over-heat protection / Throttle signal loss protection / Motor blocked protection.
Budget friendly. The cheap price makes a CLUB racing more popular and easier.

Specifications:
Output: Continuous current 45A, burst current 260A.
Input: 4-9 cells NiMH/NiCd or 2-3 cells LiPo. Note1
BEC Output: 6V@2A linear mode built-in BEC.
Resistance: 0.0006 Ohm.
Motor Supported: Sensored brushless / Sensorless Brushless.
1.8 Size: 33mm(L) * 28mm(W) * 31.5mm(H) (Cooling fan height included)
1.9 Weight: 59g (The weight of cooling fan not included)
Note1:
The cooling fan gets its power supply from built-in BEC.

Misc Information:
---
Back to: ESC (Car)