For more information and enquiries, pls contact us at sales@jethobby.com.sg

33 Ubi Ave 3,
#01-10/11 Vertex,
Singapore 408868
Tel: 65 - 6223 8933
10:30am - 8:00pm (Mon-Fri)
10:30am - 6:00pm (Sat)
Public Holidays & Sunday closed






We are Singapore based company. All prices listed are in Singapore Dollar (SGD).
Prices are subject to change without prior notice.

Jet Hobby RC Model Pte Ltd

Promote Your Page Too

Catalogue

New Arrivals, Electric Boats

Super Mono X w/Motor, ESC, Servo PNP (Auto Stable)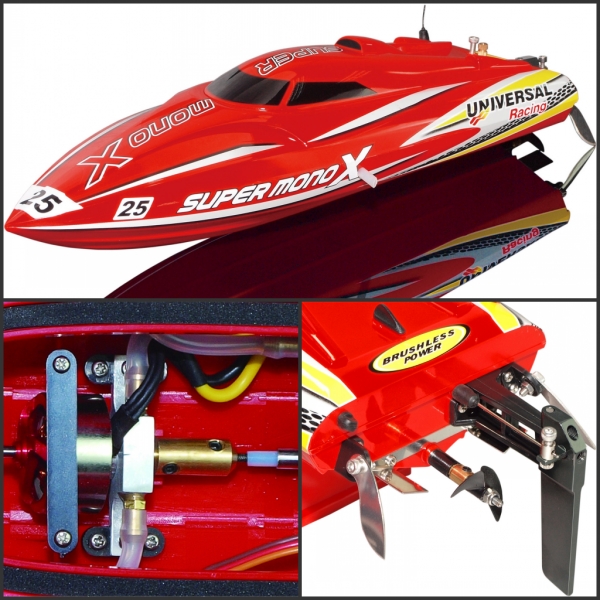 Super Mono X w/Motor, ESC, Servo PNP (Auto Stable)
it requires 2ch radio,3S (11.1V) 1300~1800 mAh Li-Po and balance charger to complete.
Take a high performance mono hull design and equip it with a water-cooled 2212-3300kV out-runner brushless motor and you get the Super Mono X! With a top speed of around 45km/h, it certainly doesn't hang around. Featuring a CNC aluminium alloy rudder, stainless steel turn fins and trim tabs, the Super Mono X uses an efficient 3.2mm flex drive to the two-blade nylon waterscrew. Supplied with a powerful 9g steering servo, 20A ESC and motor plus 2.4GHz radio system, it requires your choice of 3S (11.1v) 1300~1800mAh Li-Po and balance charger to complete.


Specifications:
Length: 420mm (16.5")
Weight: 450g (15.9oz)
Servos: 1x9g (Inc.)
Radio System: 2 Channel 2.4GHz (require)
Electric Motor: 3300kV Brushless (Inc.)
Speed Controller: 20A Brushless (Inc.)
LiPo: 3S 11.1v 1300~1800mAh (require)
Beam: 120mm (4.75")

Misc Information:
Retail Price: S$135.00
Category: New Arrivals, Electric Boats
---
Back to: New Arrivals, Electric Boats