Catalogue

New Arrivals, Wheels/ Wheel Col...

E-Magnetic brake wheel 2x75mm+Controller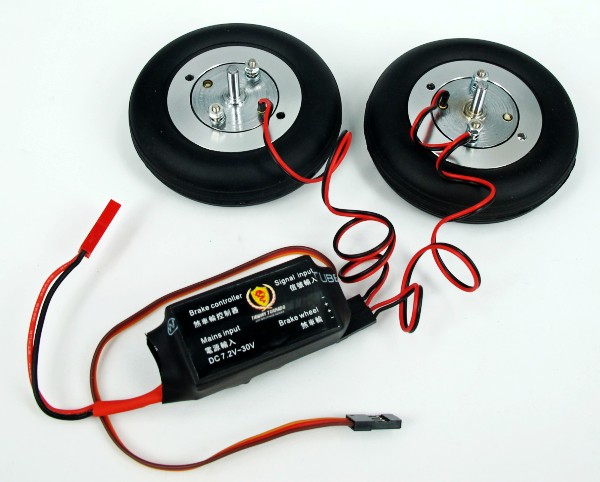 E-Magnetic brake wheel 2x75mm+Controller
Taiwan Tornado's electromagnetic control aircraft brake system is replacing and reshaping the traditional pneumatic and server remote control aircraft braking system.
This will enable the players having an easier installation mode and a better control on distance when landing without adding extra flying weight.
Taiwan Tornado applies aluminum 7075-T6 machined brake Wheel frame , Built inside magnetic coil, high intenstity hub with strong axle.


Features:
1: Completely control by electrictiy , no more trouble from air brake air leaking.
2:Strong CNC machined wheel with true soft rubber tire
2:The controller will shut downthe brake after 1 minute automatically , The controller will smartly detect it if you the brake stop for 1 minutes, and automatically reset it to its normal function.
Voltage input :7.2V-30V Can tap directly on aircraft batteries Or use an external battery 7.2V-30V
Signal input : Connect remote control receiver, set an action.
Capacity control: adjustment clockwise will increase the power, or counter clockwise to reduce power
Brake wheel: Connect the power input line on the wheels

Specifications:
Input voltage; 7.2-30v
Weight: 116g x 2
Size:75mm
Shaft Size: 5 x 35mm

Misc Information:
Retail Price: S$189.00
Category: New Arrivals, Wheels/ Wheel Collar

Movies/Videos:
---
Back to: New Arrivals, Wheels/ Wheel Col...