Catalogue

Special Sales, Frame

31# Silver Blade Series PCB 240 Glass Carbon Folded Frame Kit w/Power Distribution 140g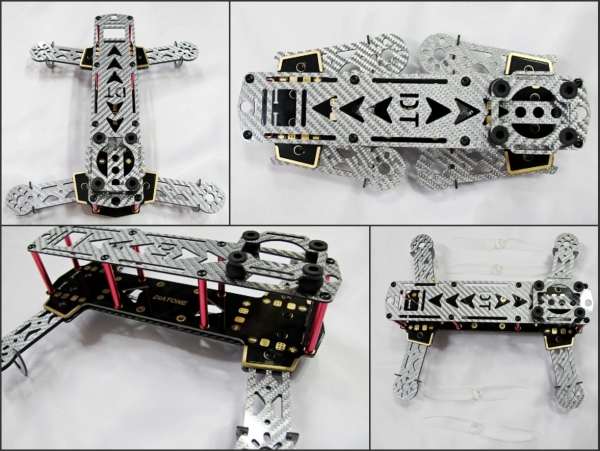 31# Silver Blade Series PCB 240 Glass Carbon Folded Frame Kit w/Power Distribution 140g
The Silver Blade Series is adopted Glass Carbon materials. This kind of materials have better cost performance. The strength is almost the same as Carbon Fiber while the cost is more favorable than that. Although Glass Carbon is a little heavier than the CF, based on a more reasonable mechanical design, we can make sure that the Silver Blade is lighter than other frames in the now available market.
This 31# Pro Frame features integrated PCB connections so direct soldering the ESCs is practicable. This eliminates the need for a power distribution board or messy multi-connectors keeping your electronics layout very neat and tidy.
This mini-sized quadcopter measures in at a mere 240mm.With a folding motor arms, this mini frame is very easy to carry. Parting "Dirty" & "Clean" parts, we separate the Mobius by using rubber damping balls. Separating the motor parts from the Camera and photographic equipments, sure you clearer pictures and more fluent videos.
The area for flight controller and FPV equipment is large and completely covered by a up cage. The up cage also doubles as an optional battery tray. The Li-Po can be moved across a large area of the frame to optimize the CG. This enables flying with different equipment and number of cameras.
Using lead-free materials, more environmentally friendly.


Features:
Built from ultra durable and high quality Glass Carbon.
Choose strong and fashion red anodized aluminum standoffs.
Measures in at a mere 240mm.
Larger mounting spaces.
Wide range of motor and power options.
With folding motor arms.
Add damping installation by using rubber balls.
Using environmentally friendly materials.

Specifications:
Description:
Width: 240mm
Height: 80mm
Weight: 140g (without electronics)
Motor Mount Bolt Holes: 12/16/19
Required (package not include):
4 x 1804~2208 motors
4 x 10~15 Amp ESC
4 x 5 inch Propeller (2CW & 2CCW)(included)
1 x Multi-Rotor Control Board
1 x 1300~1800mAh 3S battery

Misc Information:
Offer Price: S$28.00
Retail Price: S$48.00
Category: Special Sales, Frame
---
Back to: Special Sales, Frame