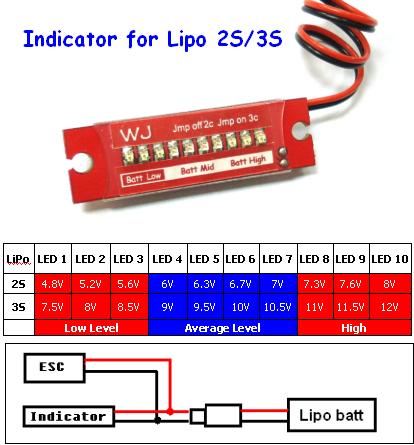 Lipo Battery Indicator 2S / 3S
This Lipo Battery Indicator can serve three main function. It can be used to check the voltage of Li-Poly Battery and it can also be installed onboard any flying model to ensure that the battery is not over discharge by looking at the LED display Indicator. It also serve to protect the battery from over discharging for those ESC low voltage cut-off. As the LED could not display the level of existing voltage.


Features:
2S & 3S Switchable.
High resolution display with 10 high intensity LEDs.
Ultra light weight and compact design.
For 3S Lipo Plug in the Jumper.
For 2S Lipo unplug the Jumper.

Specifications:
Size: 43mm x 13mm x 6.8mm
Weight: 4g
LED: 10 nos

Misc Information:
Product Code: ATC-01
Offer Price: S$18.00
Retail Price: S$20.00
Category: Measuring Devices
---
Back to: Measuring Devices