For more information and enquiries, pls contact us at sales@jethobby.com.sg

33 Ubi Ave 3,
#01-10/11 Vertex,
Singapore 408868
Tel: 65 - 6223 8933
10:30am - 8:00pm (Mon-Fri)
10:30am - 6:00pm (Sat)
Public Holidays & Sunday closed






We are Singapore based company. All prices listed are in Singapore Dollar (SGD).
Prices are subject to change without prior notice.

Jet Hobby RC Model Pte Ltd

Promote Your Page Too

Catalogue

HobbyWing (Aircraft & Heli)

Hobby Wing FlyFun-10A Brushless ESC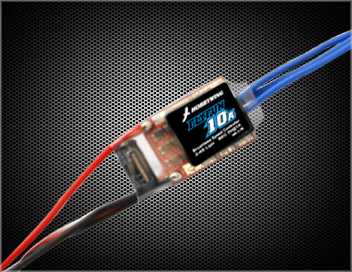 Hobby Wing FlyFun-10A Brushless ESC

Features:
Safety Arming Feature: Regardless the Throttle Stick position, the motor will not spin after battery connected. This will prevent any injury happened.
Throttle Calibration: Throttle range can be configured to provide best throttling linearity, fully compatible with all market available transmitters.
Programmable Items:
Brake Settings: brake enabled / brake disabled, default is brake disabled
Battery Type: Li-xx(Li-ion or Li-poly) / Ni-xx(NiMh or Nicd),default is Li-xx.
Low Voltage Protection Mode(Cutoff Mode) : power reducing / power cutoff, default is power reducing.
Low Voltage Protection Threshold(Cutoff Threshold) : low / medium / high, default is medium cutoff voltage.
For Li-xx battery,number of battery cells are judged automatically,low / medium / high cutoff voltage for each cell are: 2.6V/2.85V/3.1V. For example: 3 Cells Li-Poly, when medium cutoff voltage is set, the cutoff voltage is: 2.85*3=8.55V.
For Ni-xx battery, low / medium / high cutoff voltages are 0/45%/60% of the startup voltage. (0% means the low voltage cutoff function is disabled).
Startup mode: normal / soft / super-soft, default is normal startup.
Timing: low / medium / high, default is medium timing.
Full Protection Features: Low-voltage cutoff protection / over-heat protection / throttle signal lost protection.

Specifications:
1.1 Output: Continues 10A, Burst 12A up to 10 Secs.
Input Voltage: 2 – 4s Lipo or 5 -12 cells NiCd/NiMH
BEC (Battery Elimination Circuit) Output: linear mode BEC 1A
Max Speed: 210,000rpm for 2 Poles BLM, 70,000rpm for 6 poles BLM, 35,000rpm for 12 poles BLM. (BLM: BrushLess Motor)
Size: 17mm*27mm*6mm(width*length*height)
Weight: 9g

Misc Information:
Product Code: HWPT10A
Retail Price: S$20.00
Category: HobbyWing (Aircraft & Heli)
---
Back to: HobbyWing (Aircraft & Heli)